For the first page, technically page 2 because first of all I broke the spine, whaddya know, I wrote on it! WORD!
Next, the tear-this-up page. Rip! Rip! Rip! All the strips came out lopsided and the ends began to curl up on their own. I curled them a little more.
Then I wove some of the torn strips into the scratch-it page. The scratch-it page had more holes than scratches, mainly because my buddy the little kitty went into fail-whale mode and fell asleep on the job.
Note to self: play with more pop-up books!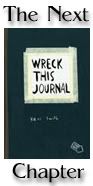 First week of Wreck this Journal. I'm amazed to find myself tempted to write in it rather than wreck it. For me, a blank journal usually sits empty and forlorn and lost and neglected; I hate the blank pages! So maybe the suggestive pre-entries have warmed it up for my writing urges?