Wreck this Journal
.
Wherein, having duly swaddled the book in miles of strapping tape and applied a ragtag assortment of postage stamps and block lettered the from: and to: addresses in only slightly smeary ink, I slipped the book into my handy tote bag and hoofed it over to the main branch city post office where, on a lovely warm and sunny Thursday afternoon wherein the air at the nearby farmers' market was redolent of strawberries, blueberries, blackberries, raspberries and many fine herbs, we bid the silly little black book "Adieu, Farewell and Bon Voyage!" and abruptly ceded control to … the USPS.
Yes, I plopped it unceremoniously into a blue mailbox, possibly the second one from the left as shown in the photo. (By the time I looked both ways to cross the driveway and stepped back to take the photo and waited for pedestrians to exit the frame, and took off the lens cap, I had already forgotten which box I stuck it into. So anyway, one of these sturdy blue boxes.)
Now we wait.
Meanwhile, WRECK ON!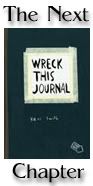 In which we embark upon a new stage of the journey, this week's #WTJ post being installment three or four depending who is counting the progress of our multi-player game involving the book,