Kitty and I blithely sloshed, dripped, and finally dumped coffee dregs on the book, driving the resident-home-for-the-summer-college-know-it-all to raise an eyebrow:
"That's sure not something you see every day!"
Truth or Consequences/TMI?
I've been using the book as a handy coaster all week. One day I kind of missed and splashed doused the keyboard a little. Good thing nobody saw that but me.
Right/Wrong, Left/Right, Two/Three/Whatevah!
Good thing, too, there is no right or wrong to Jamie Ridler's Wreck this Journal fun because I am not sure if this is technically week 2 or week 3 as far as the posting sequence goes. It's the third weekly post but only the second week of doing. The left side of my brain finds this detail bothersome. The right side says who cares.
Hope everyone is energized – Wreck ON!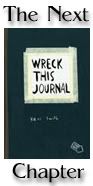 If you found this interesting, please share it with a friend. Be sure to get your next Reptitude fix by RSS (orange button tip top right) or email update using the form top right sidebar.